Woodhaven History
By Leonard Oliver Nasman, copyright 2006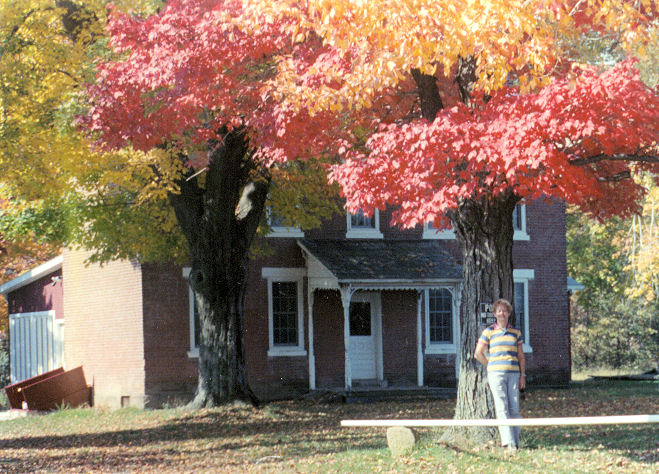 Woodhaven, 1987
Introduction
Late in the summer of 1987 Diana and Len decided to find a piece of property that could be used for recreation and that might also be a modest real estate investment. Some folks enjoy having a cabin on a lake. In our case, we were more interested in some acreage where we could picnic and enjoy nature. We weren't really looking for a house, but that is what we found.
We explored in all directions roughly inside an hour radius drive from our home in the Columbus, Ohio area. After investigating a number of possibilities, we were drawn to the hills just inside the un-glaciated Appalachian Plateau about 75 southeast of Columbus, Ohio. One fall weekend we took a drive to a site described to us by a Real Estate Agent. The property consisted of 76 acres and included an old house that was in considerable disrepair.
After looking through the house (it was not lockable at the time) we crashed our way through the brush at the edge of the yard and headed down through the woods in search of the lake that had been mentioned by the agent. Once we got through the brush into the woods, the large trees shaded the ground and the woods was fairly open. Although we had not expected to find much of a lake in this part of Ohio, we were surprised to discover quite a large body of water where fish could be seen swimming about. (Click here for the story of Horseshoe Lake.)
The property had a large variety of trees, plants, and evidence of wildlife. We were hooked, and bought the place. After a bit of trying out the sound of different names for the place, we decided to call it Woodhaven.
Land Transactions from Perry County Records
At the Perry County Courthouse it is possible to view the original ecords of all property sales since the origin of the State. Some of the earliest records were signed by folks who could not read or write. Some names have various spellings, probably interpretations by a clerk who tried to guess a name from accented pronunciations. In some cases can be found a name followed by the notation 'her mark' and an X in place of a signature. The record for the place we call Woodhaven starts in the early 1830's. Here is what was discovered in the records.
Charles McLaughlin, from Lewistown, PA, wrote a will dated June 12, 1830 in which he left three 1/4 sections of land in Jackson Township to his brother John McLaughlin. John named Enos McGaery his Ohio Attorney. Enos appears to have obtained title to the Woodhaven property on July 1, 1831. Enos then sold the property to Hugh and Ann (Anny? Amy?) Conly on July 10, 1835.

On September 15, 1835 Hugh Conly sold the property to Alexander and Mary McLain for $170. Alexander and Mary owned Woodhaven until January 12, 1846 when they sold it to Basil (Bazil?) and Sarah Gorden. The selling price was $850. It is assumed that the house was built by the McLains around 1836.

Daniel and Mary Diamond (Dimond?) purchased Woodhaven from the Gordons for $1,200 on February 26, 1853. The Diamonds owned the property until March 8, 1894 when they sold it to William A. Stephenson.

The title to Woodhaven passed, on the death of William, to: Martha J. Stephenson (dower interest): Fred H. Stephenson (1/4 interest), Forest E. Crabbe (1/4 interest), Pauel E. Rarick (1/8 interest), and James W. Rarick (1/8 interest). The deed was transferred on November 15, 1939. The Stephensons and the Raricks transferred their interest to Forest E. Crabbe in November of 1939. Forest apparently lived alone in the house for many years. Neighbors tell stories of how she would invite them for cookies when they were kids, and that she was hard of hearing and used a large trumpet cone as a hearing aid. Forest E. Crabbe (unmarried) died on September 5, 1976 having transferred her interest in the property to Fred H. Stephenson 10 years earlier (September 26, 1966).

Fred H. and Anna C. Stephenson sold the property to the Mohlers (Michael, Sherry, Charles, and Stephen) on January 29, 1979. The Mohlers rented out the property for several years, and then the house stood vacant for several years until it was sold to Leonard O. and Diana J. Nasman in the fall of 1987. After much deliberation, the Nasmans named the place Woodhaven.
Woodhaven Milestones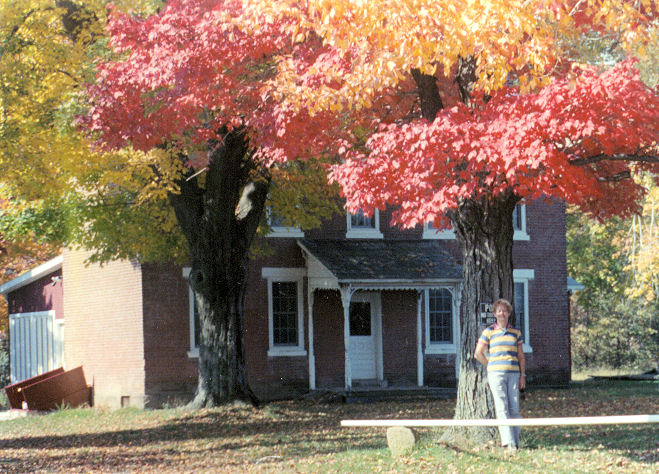 Once we purchased the property we were faced with decisions about what to do with the old house. Investigation showed that the foundation and basic structure of the house was solid, but the interior of the house was a mess. The outside also needed some serious maintenance.
The first order of business was to tighten the place up. A local contractor was located, and the old bricks were tuck-pointed (the process of replacing the exposed mortar joints between the bricks), the old windows were replaced, and a couple of new doors were installed.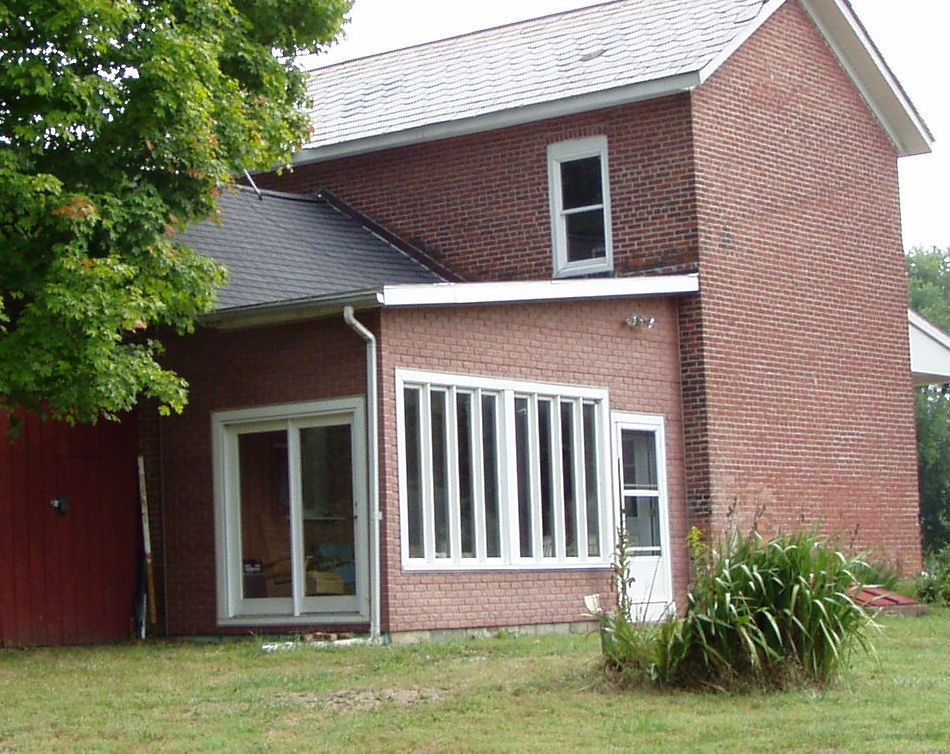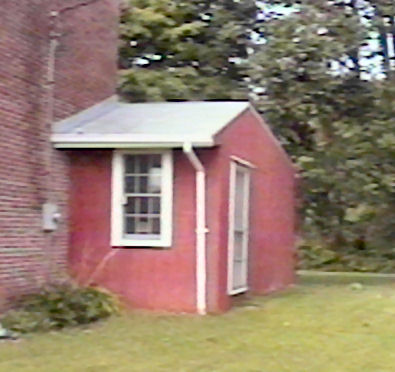 The following summer, Len and Steve tore down the south porch and what had originally been a matching north porch that was being used as a bathroom. The contractor was brought back to install a proper footing for a new south porch, a bathroom, and an extension on the north side that would serve as a bedroom and that would later be attached to a garage.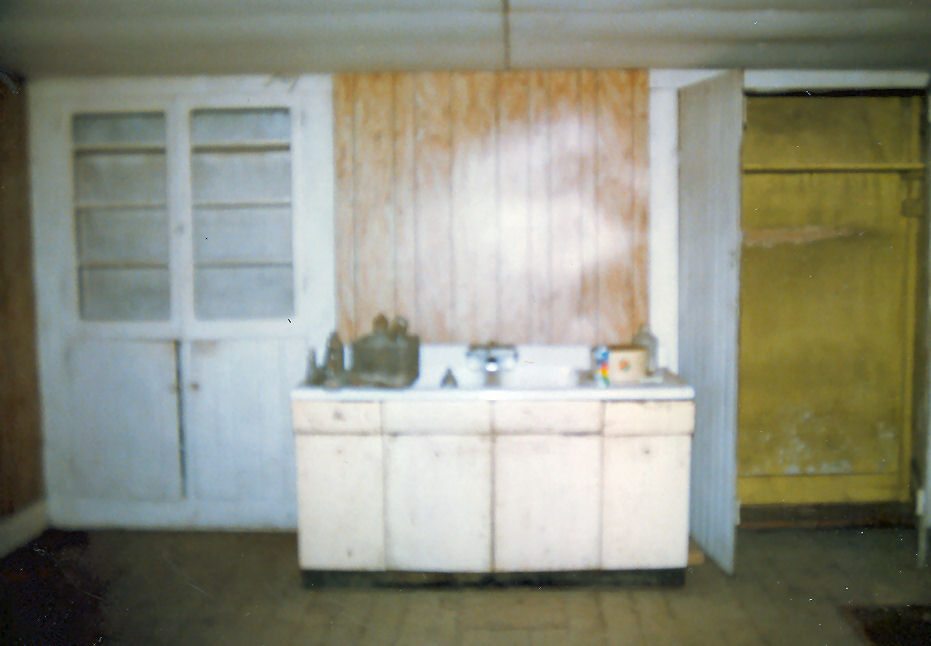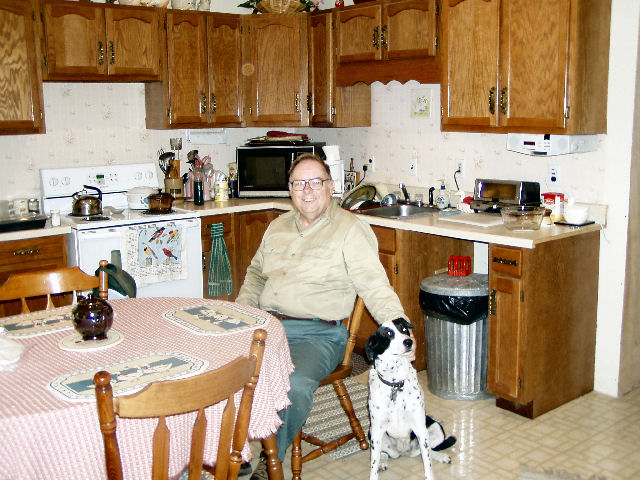 The contractor provided a "weathered-in" structure (walls and roof) and Len started working on finishing the inside. This involved installing a new electrical system from the "weather head" on in to a 200 amp service entrance box, and to new wiring as each room was completed. Insulation was added to the walls, followed by wall board and plaster. A proper septic system was installed and a new well was drilled (90 feet deep) in the front yard. Len installed plumbing for the bathroom and kitchen, and worked on finishing the rooms, mostly working a few hours on weekends.
Summer weekends have been spent making the woods more accessible. Len has created a couple of miles of trails that he maintains. In the fall of 1987, most of the yard was so deep in grass that Len had to use a scythe to cut it. He has since gone through several riding mowers, and with Steve's help, has pushed back the rose bushes and brush so that there is a nice view from the South porch down towards the meadow.
Several benches have been placed to provide places to meditate and enjoy views of the ever changing landscape.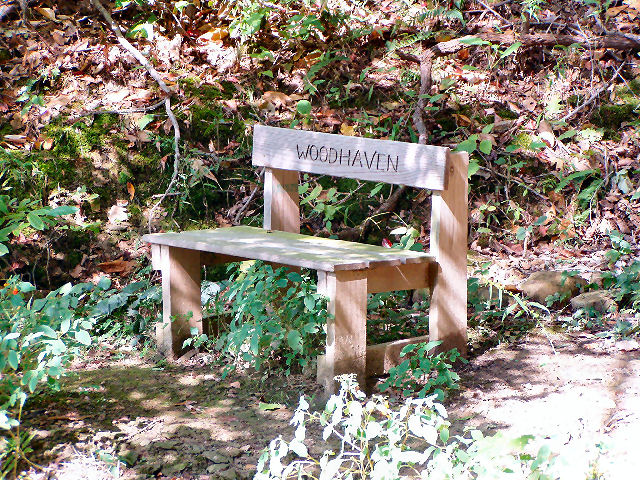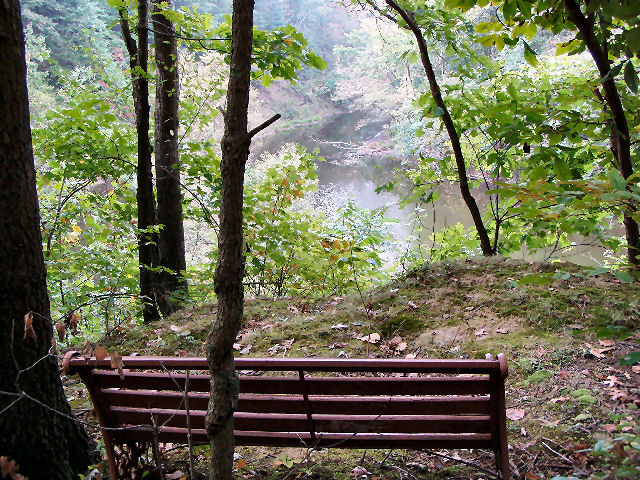 Since the lake is about 100 feet lower in elevation than the house, some of the trail building required many hours of digging into the hill sides using a tool called a grub hoe. This is a combination of sturdy hoe and pick axe. It is necessary for chopping through tree roots and digging through hard clay and rocks.
It is now fairly easy to walk down to the lake level at two different access points.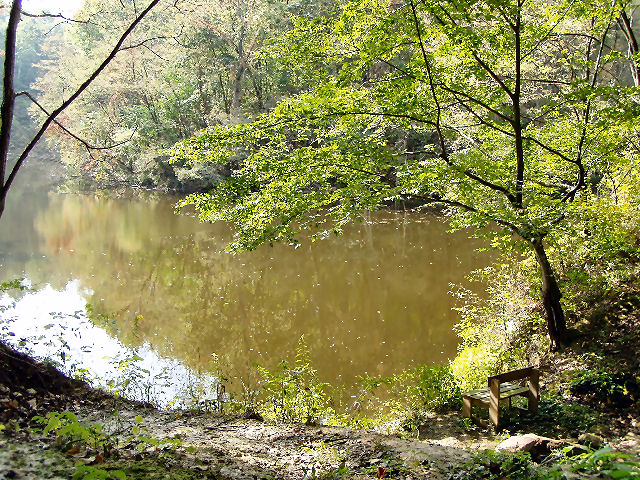 When you sit on the Woodhaven Bench and observe the waters of the lake occasionally being disturbed by a jumping fish, splashing beaver, or cruising goose, the noise and bustle of the city seem far away.
The kitchen is no longer the dark depressing place of 1987, but is now a good spot to share meals with visiting friends.
The south porch, although not heated, is a great passive solar collector. Only one winter has been cold enough to freeze the plants that are kept here. If December 21st is clear, the sun beams in to a point about 3 feet up on the inside wall of the porch. On June 21st, however, the sun barely gets onto the porch floor. This almost accidental feature of the south porch makes it a great place to sit and view the passing seasons nearly all year round.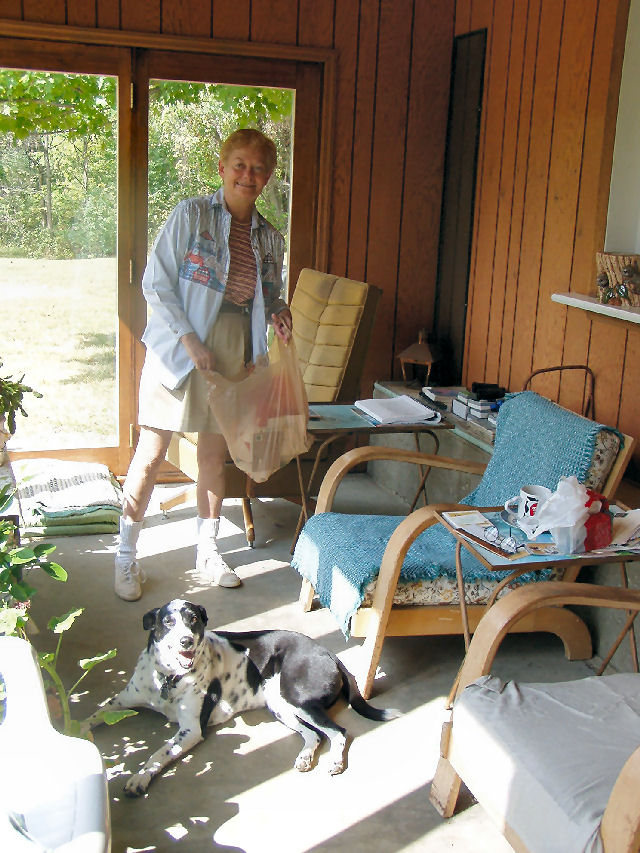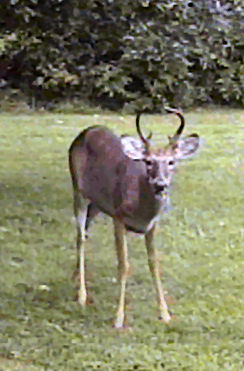 A lot of critters have been viewed from the comfortable old chairs on the south porch. Deer frequently pass through the yard. Visitors include groundhogs, rabbits, squirrels. possums, skunks, and one time a red fox. Lots of birds can be seen... from tiny hummingbirds to fat wild turkeys.
For pleasant summer afternoons, the place to be is on the front porch. By afternoon it is a shady place, and as often as not, a gentle breeze provides nature's air conditioning. Many afternoons and evenings have been spent here waving at the friendly neighbors who drive along Dutch Ridge Road.
The original porch was beyond repair. It was falling away from the house and had a wooden floor that was deteriorating. and was too small to be useful.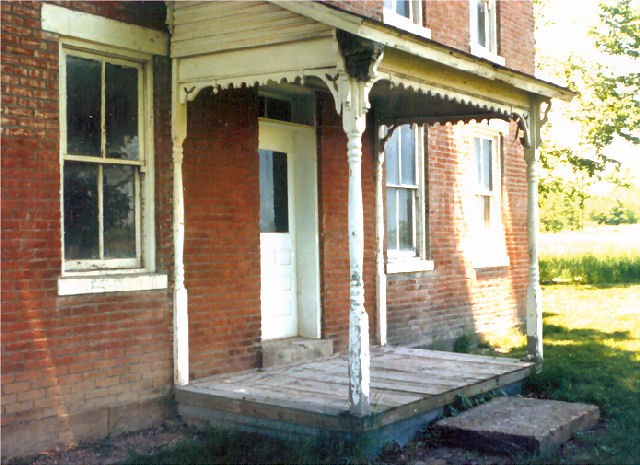 After years of parking in the yard beside the south porch, a garage was started in the fall of 1999 and was completed the following spring. The garage is large enough to hold two cars, a workshop, and a utility room that will someday include a sink and shower. Of course the problem with any empty space is that it soon is filled with stuff. (See the Woodhaven Garage Saga for details.)
Here are some of the major accomplishments in our history of Woodhaven.

September, 1987 - Diana and Len made their first visit after receiving verbal description about the place from Rolling Acres Realty. They discover that the house had not been lived in for several years and was not lockable. They took a hike in back of house to try and find the lake. After crashing through the wild rose bushes lining the yard, they came into an open woods. Traveling down the hill and climbing down a steep bank they arrived at the lake. The sun was shining, the water was clear, and fish were visible. They decided to make an offer on the place and to call it Woodhaven.
April, 1988 - Had exterior brick walls tuck pointed and replaced original windows with new Andersen windows.
July, 1988 - Had new well drilled in front of house and had septic system installed in back yard.
August, 1988 - Tore down exterior south porch and old bathroom (originally a porch) on north side. Had Ferguson Contracting pour new south porch floor and frame porch. Had Ferguson install footing and frame exterior walls for bathroom, bedroom, and hall extension. The hall extension was designed to eventually connect to an attached garage. Replaced old fuse box (in basement) with new 200 amp service entrance in hall. Started work on bathroom and finishing interior hall and bedroom.
September, 1988 - Added storage shed to back of house.
1989 + Worked on clearing brush from edges of yard and expanded yard to the west. Worked on building trails in the woods.
December, 1990 - Signed agreement with Foraker Gas to tap into pipeline to supply natural gas to the house.
April, 1991 - Replaced old front porch with new porch extending the entire width of house.
October, 1991 added natural gas furnace in basement.
November, 1991 - Purchased property on Marietta Road at a land auction. The property was listed as 33 acres more or less but finally surveyed at 48.9 acres. The south border of the property is about 1/4 mile from the north border of the Dutch Ridge Road parcel.
June 1995 - Tapped on to Burr Oak Water line extension to Dutch Ridge Road for house water supply. Maintained well connection in basement.
April, 1997 - Signed easement for Ohio Bell Telephone to place 880' of fibre optic cable along road at south east property line.
Summer, 2000 - A pole barn was built in the meadow.


September, 2000 - Garage construction is started.
Winter, 2000/2001 - Work on garage continues.
March, 2001 - Garage exterior is completed.
Summer, 2002 -The frog pond is built.
November, 2003 - Remodeling of four interior rooms begins and continues through the next several months.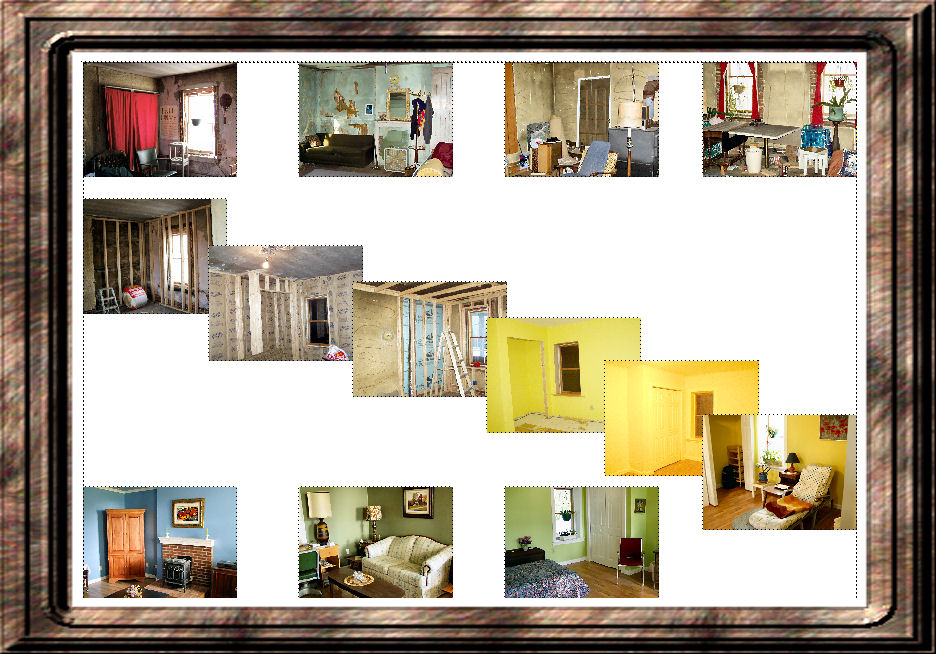 November, 2003 - The remodeling job included replacing the house roof and adding basement floor drains that connect to pipe running 200 feet south of the house into the woods. Once the basement moisture problem was solved, the first floor was leveled... requiring raising the floor 3 or 4 inches on jacks in some places. The remodeling also included installing new electrical wiring in four main rooms and adding wiring for video cable and phone lines. A gas log stove was added to the living room and that required installing a metal liner in one of the old chimneys.

June, 2004 - The boat dock is built.
October, 2004 - Added West Porch slab and roof.
May, 2005 - Enlarged pole barn doors to accommodate the Big Turtle and created an improved driveway to pole barn.
Spring, 2012 - After a wonderful quarter century, and after several years living in Bristol Village, our life style changed and it was time to sell Woodhaven. The years we spent enjoying our piece of un-glaciated Appalachian Plateau were good, but nothing can last forever. The new owners fell in love with the place and plan to continue maintaining it in a manner similar to what we have enjoyed.
Well, what started as a simple quest to find a place in the woods for hiking and picnics turned into the gradual development of a wonderful country estate. Woodhaven has seen a lot of changes since we first discovered it in 1987, and we are sure that it will see many more in years to come. Every season at Woodhaven has it's delights and surprises, and it is hard to imagine our world without such a place.
Woodhaven, 2011
Web page copyright © 2006 by Leonard Oliver Nasman. All rights reserved.
---